Pixel Proof of Concepts: Archie and Daphne
---
When creating Archie, I knew I wanted him to have this childlike wonder about the world in Wayfarers, fascinated with the people and cultures of the realms he visits. When I was writing the first draft of my novel, I actually originally imagined him in something like a Greek robe (catching a ride into town on one of the cows being herded back inside). But some reason the robe felt distracting in the scenes I imagined while writing the rest of the draft. It took only a couple chapters to have him in something a little more conventional.

When it came down to describing his outfit, I wanted to make sure it reflected his personality but also make it very travel friendly because well..."Wayfarers". Archie is obviously very smart in sciencey things so at first I messed with some kind of lab coat. But that felt a bit too 80's cliche (also too Nichijou). I eventually decided on a schoolboy explorer. If you've been following my devlog, you'll have already seen that outfit in the Pangaia comic I posted a while back and this commissioned piece.
And now, here is the pixel sprite version of Archie: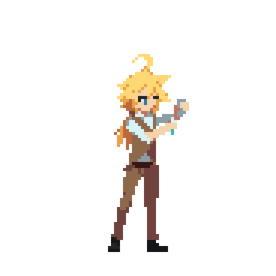 One of the many things I was excited about when making the demo for Wayfarers was designing the main characters. I had visual aid of Perry and Archie in the previously mentioned comic and commissioned piece but nothing of Lily and Daphne. I actually had a good idea on what I wanted Daphne to look like; gruff, disciplined, and protective. Obviously she had to have some kind of uniform since she is part of a private guard company, the Sentinels.

Here is the pixel sprite version of her: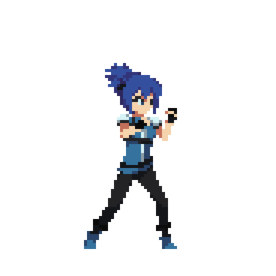 I have only more pixel sprite to show you and I'm sure you can already guess who it is. All of the sprites I had made are super awesome but I'm really excited about the one I'll show next time.

Get Wayfinders / Wayfarers Demo