So earlier this week I reached (drum roll please)...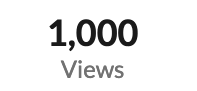 I actually debated about posting this because I don't know if 1000 views is a good number for a game that's been out for about a year. But you know what? Regardless of the time/view ratio being good or bad, I'm still proud to have reached 1000. Especially since I haven't really done a whole lot of advertising for my game. Although I'm not getting 100's of views and downloads a day, seeing the number of views still going up motivates me to keep working on.
I'm really eager to get back to work on Wayfarers because even though I haven't been able to work on it directly, I'm still brainstorming and compiling notes here and there on where I want the story to go. I've also been browsing through the plugin bundle I bought from Yanfly to see if there are any fun plugins that would make sense to include in the game.

Get Wayfinders / Wayfarers Demo